The past - B'Elanna's Quarters
The yellow-alert sounded and B'Elanna rolled over in her bed groaning as the room and her stomach both slowly flipped over. She wrinkled her nose 'I smell smoke?' she thought hazily. And then more urgently 'maybe there's a fire!'
She sat up quickly. "Computer. Time?"
THE TIME IS 5.08 AM replied the computer.
She heard a cool voice behind her saying "We are required in the briefing room Lieutenant." The events of last night tumbled back into her consciousness.
"Seven" she squeaked before pulling herself together and resuming speaking two octaves deeper.
"Seven what is happening?"
"I do not know" replied the tall ex-Borg who was dressed already, the breathtaking body covered by a mesh biosuit.
B'Elanna grinned, now fully aware of the circumstances and her own body, as she swung her legs over the side of the bed. 'Aching for all the right reasons' she thought smugly. Awake enough now to pay attention to her companion, B'Elanna noticed Seven's distant manner. She was studiously avoiding looking at the naked half-Klingon.
"Does Tuvok know you spent the night here?" B'Elanna smiled up at the tall blonde trying to gauge her mood.
"Apparently so" said Seven not returning her gaze but staring determinedly at the floor.
"Hmm." said B'Elanna. She was surprised at how little the thought of other people knowing about her night with Seven of Nine, ex-Borg drone, disturbed her. But she was now concerned about Seven's state of mind. "Come here Seven and say good morning properly."
"I cannot. I must leave now. I am sorry Lieutenant." Her voice cold as the void of space, Seven of Nine walked to the door in three long strides and left B'Elanna's quarters without another word and without looking back.
"What the hell?" Torres was too stunned for a moment to react and then hot anger swept over her and she jumped to her feet and rushed the nearly closing doors, which parted in front of her. She skidded to a halt in the corridor seeing Seven turn the corner at the far end.
"You god-damn drone, how fucking dare you leave me like this?" She screamed at the retreating figure who did not even hesitate. B'Elanna stood there clenching her fists watching the empty space as her heart went into a slow anguished free-fall. She slammed her fist into the wall hard enough to break bones. The pain brought her back to herself and slowly she became aware that there were several horrified crewmen in the corridor and that she was still buck-naked.
"Ten thousand plagues on your house" she roared after the retreating figure. And turned to glare at an unfortunate gawking crewman.
"Is there a problem ensign?" She asked furiously offended by his gaze as though seeing a naked screaming senior officer should be a matter of no note.
He shook his head terrified.
"Don't stand about gasping for air - get to your post. Am I the only one who realises there's a yellow alert?" And with that she swept back into her quarters. The frozen cameo in the corridor disintegrated as the shocked crewmen suddenly remembered where they were going.
B'Elanna dressed herself as quickly as she could concentrating on the pain in her shattered knuckles in order to distract herself from the pain and humiliation of Seven's desertion. In two minutes she was on her way to the briefing room.
The Briefing Room
Tuvok stood at the end of the conference table, flanked on one side by a Bolian security officer called Krathie and on the other by Neelix. Harry, Tom and Seven were seated at the far end in silence. Harry was sitting with his head in his hands and only Tom looked up as she came in.
"Hey Lanna" said Tom breezily. "Come to see the latest screw-up." Seven did not look at her and B'Elanna clenched her fists, wincing at the pain.
"Lieutenant?" queried the acting Captain. And frowned as he observed her swollen hand.
"An accident Commander." The look on her face dared anyone to ask any more questions.
Tuvok arched an eyebrow in a gesture of extreme Vulcan disbelief but allowed the matter to pass. The security officer and Tom smirked and B'Elanna scowled. More grist to the rumour mill about Klingon mating habits.
"What's happened Tuvok?" asked the engineer wearily, wondering what new misfortune the day could bring.
"The four prisoners were murdered last night." Tuvok spoke very evenly which made the words even more incongruous. B'Elanna took a full second to understand what he had said.
"What? Sweet Kahless what is happening to this ship?" she said with a disbelieving grimace. Ill temper then made her add "Not that they didn't have it coming." Tuvok stared at her and she clearly sensed his disapproval.
"I do not think the prisoners deserved this" he said and gestured to the view screen behind her. B'Elanna followed his gaze.
B'Elanna was no delicate little flower but she felt her stomach heave and was grateful that she had not eaten in the last few hours. The decapitated corpses of the prisoners lay on the floor of their cell, and their severed heads were lined up on a bench in the holding cell, faces to the wall. Blood from the corpses had flowed over the floor in patterns matching the slight variations in Voyager's artificial gravity field. Footprints were clear in the gore although the prints did not extend beyond the immediate area of the crime."
"Transported" guessed Tom out loud. "The killer must have been covered in blood but there is none outside the cell."
"Who did this Tuvok?" Asked B'Elanna. Much as she despised the four renegades Torres was revolted by the brutality of their deaths.
"The murderer has not yet been identified Lieutenant."
"You mean you don't know?" Harry was almost sneering. "What about the guards and the security sensors? Let me guess, sensors were not functioning again, the guards were unconscious and the murder was committed by the invisible man."
"Damn useless Starfleet security" exclaimed B'Elanna. "I'm gonna rebuild this ship's internal systems so not even the Captain can flick a switch without being observed and not even Kahless himself could override the sensors. Ye gods Maquis security was so much better" she fumed.
Tuvok interrupted her rant. "The brig sensors functioned perfectly. We know how the murder was committed but not the identity of the person responsible. Computer replay sensor log 56277.5."
The view screen picture of the murder scene cleared and came to life focused on an earlier scene in the brig. The log chronometer showed 4:03:37 am. Two guards were seated. After a few seconds one got up to examine a console. On the soundtrack gentle snoring could be heard from the cells. The main corridor doors hissed open and a large man in Starfleet science uniform entered. He looked familiar but B'Elanna couldn't place him. Tom gasped and she supposed it was recognition. But he said nothing as the replay continued.
The guards looked puzzled and could be heard asking his identity. The man lifted his arm and threw a small object at the feet of the security officer. It shattered and the security man fell to his knees instantly. The second officer shouted and managed to clear her phaser from its holster before she too fell down and lay absolutely still.
Shouting from the cells indicated that the prisoners had woken. The sensor view shifted to the cells. The intruder was deactivating the cell force field. The occupants collapsed almost immediately as the contaminated air from outside flooded the cells. They lay on the ground twitching helplessly. The intruder entered the cell, put down his case, opened it and withdrew a smallish but lethal looking axe. He lifted up one of the paralysed prisoners effortlessly and held her head on one of the sleeping benches, exposing the neck and then with a single stroke cut off her head. He placed the head carefully on the bench and repeated his actions methodically with the remaining prisoners, slipping once or twice in the blood streaming from his victims' clean-cut veins and arteries.
When he had finished, he unhurriedly laid the red-stained weapon on the floor and stood up. The watching officers could see his blue uniform jacket was dark where the victims' blood had spurted. Reaching for what looked like a badge on his chest the killer tapped out a short sequence and vanished. The badge fell to the floor where after a few seconds it ignited and burned fiercely. Before it had finished burning, security officers in breathing masks entered the room.
Tuvok stopped the playback. The sensor clock read 4:05:23. The whole crime had taken less than two minutes.
"Are you going to tell us Tuvok that you don't know who this crewman is?" asked B'Elanna.
"He's not a crewman," said Tom Paris in a dull voice. "The killer is Michael Sullivan, a hologram from the Fair Haven programme."
"But that is not possible. There are no holo-emitters in the brig." White-faced, Harry was almost shouting. "And how in hell would he get there?"
The others stared at the Ensign.
"Take it easy Starfleet" said B'Elanna and put her hand on his shoulder. He shrugged it off and put his head in his hands again.
"Sorry Commander" he mumbled.
"It would appear that the hologram was equipped with a portable emitter Mr Kim. The discarded object although badly burned was identifiable as such. Preliminary examination suggests it is a primitive version of the EMH portable emitter. Sufficient perhaps to maintain a simple hologram with a single task."
"Are you are saying someone on this ship designed and made this thing with the idea of remotely killing those traitors. Clever" said Tom.
Feeling sick with comprehension, B'Elanna interrupted Tom.
"Two of the gamma shift engineers, Sung and Pike have been working for several months on a prototype project to design a simple portable holo-emitter. We knew we could not duplicate the Doc's 29th century device but the intention was to allow us to develop a holo-emitter that could maintain simple holograms that could be used to do some of the more tedious or dangerous engineering tasks. The prototype was designed using the Michael Sullivan matrix - it was a joke."
Tuvok quirked his eyebrow inquisitively.
"As a surprise for the Captain, you know. A toy the Captain could take home with her." Seven looked at her for the first time. Her expression was stony and B'Elanna became defensive.
"When I found out I put a stop to the Sullivan thing okay? But the project continued - they did a lot of off duty hours. Obviously they were further along than I knew."
Tuvok addressed his security officer. "Find Pike and Sung and bring them here. Their quarters are to be searched."
B'Elanna intervened. "Tuvok I cannot believe either of them is capable of something like this. They are good engineers, not killers."
Tuvok was unmoved. "Whomever is responsible we will undoubtedly be disconcerted by their identity Lieutenant."
Arriving home from engineering that evening B'Elanna could not understand what was happening. Her world was falling apart. The Captain was dead and her best friend, Chakotay, lost to reality and now several of her team were under suspicion of murder. As if that was not enough Seven was avoiding her. She had received a curt message saying that Seven was unavailable for duty in engineering.
Involuntarily her mind flashed back to the night before and images of making love, the feel of the sensual mouth and rough velvet tongue on her breasts, the urgent strength of long delicate looking fingers. Her lover's strangely beautiful body. Perfect alabaster skin traced with living grey metal. Borg implants just visible below the skin and in some places breaking the silk smooth surface of the skin, strange inorganic jewellery growing from her body or running in unyielding alien lines across the very human frame.
The unbelievable skill. She had jokingly quizzed Seven about her experience and knowledge. The former drone was unsmiling as she offered the chilling explanation.
"The Collective considered the sexual practices of assimilated cultures to be relevant knowledge . Relevant to the construction and delivery of biological weapons."
B'Elanna damned her own insensitivity and she worked hard to erase the troubled expression from her lover's sweet face and reaped the reward when Seven cried out her name. It felt so right afterwards. She had fallen asleep in Seven's arms, resting her head on Seven's perfect breasts, listening to the slow, strong beat of her lover's heart, idly tracing the path of the shallow metal ridges across her abdomen, and wondering how she had come into such good fortune.
But all that was a distant memory. As she entered her quarters the detritus of last night's affair met her eyes and the room mocked her inadequacy. Angrily she ended her reverie.
'Torres are you some pathetic craven worm crawling on your belly that you allow her to treat you this way?' About-facing she headed out of her quarters and nearly collided with an impassive Seven of Nine who was standing outside her door.
B'Elanna was taken aback but didn't let it throw her off. She stepped back into her room and indicated that Seven should follow her. Seven entered the room and as the door closed B'Elanna said "I want an explanation."
Seven didn't bother to prevaricate. "Last night was a mistake. Clearly I had not adequately adjusted for the effects of the alcohol and Kelva nuts. I am sorry if I have inconvenienced you."
B'Elanna was livid but with heroic self-control she mirrored the ex-Borg's icy inconsequence
"Well I suppose you could call being used and discarded inconvenient but it would not be my first choice of words. I did not expect undying love Seven but at least a polite good morning and goodbye."
"It was not my intention to copulate with you Lieutenant. I have come to apologise for my behaviour." At last the woman met her gaze, her eyes, the cold unyielding blue of arctic seas. B'Elanna didn't flinch.
"What was your intention Seven? To humiliate me? To cut the first notch on the wall of your regeneration chamber?"
Seven was mystified by the reference but the first crack in her composure appeared. "I ... I betrayed her..."
"You betrayed me and I am not dead." said B'Elanna cruelly and regretted it immediately as Seven's eyes opened wide with hurt. She wondered at the regret. Angry as she was hurting Seven was too much like hurting herself. Hardly able to believe her own maturity B'Elanna bit back bitter words.
"Seven, we are getting no where with this. I didn't really want to argue over last night" she lied. "We are going to have to work together. I am your commanding officer and I need you in engineering. To head up the gamma shift. So you won't have to see me very often if that's what is bothering you. They are short of staff and morale is poor. I want them reorganised and their efficiency improved."
Seven of Nine studied her quietly for three point four seconds before acquiescing. "I will report at 2200 hours for duty Lieutenant."
"Carey will be relieved, he has been covering beta and gamma shifts for over a week. Report to me tomorrow morning at the end of your shift. I want a full assessment and proposal for reorganisation."
"Yes Lieutenant."
Seven left without another word. B'Elanna still felt rather pleased with her self-control. 'Chakotay will be amazed' she chortled before remembering the depressing reality of his condition. And then she also remembered that she would probably never again feel the length of Seven's body against her own and the marginal improvement in her mood vanished.
Three weeks later the crew of Voyager was still reeling from the disasters. Nothing had been fully resolved and suspicion and fear permeated the ship, rotting the fabric of their small society. Old animosities and mistrust returned between the Starfleet crew and the Maquis. Chakotay's condition had at last been disclosed to the crew but many Starfleet officers hinted they would be unwilling to accept his command even if he recovered. The Maquis responded by complaining about Tuvok and his methods. Matters were not helped when Tuvok promoted Harry Kim to Lieutenant and made him first officer. The Maquis crew thought B'Elanna should have been first officer unaware that she and Tuvok had decided she was more useful to Voyager as chief engineer than in the essentially administrative role of first officer.
Sung and Pike were released without being charged. The prototype holo-emitter project had been moth balled several weeks before the Captain's accident due to lack of time. The emitter had been stored in engineering but any crew member could have taken it. The project, while not high profile, had not been a secret. Tuvok's team was unable to trace any evidence linking the emitter to any particular member of the crew and the trail had gone cold. It had also proved impossible to trace the hologram's route to the brig and hence it's likely starting point. The only other piece of evidence was the murder weapon but that turned out to be even less helpful. The killing hologram had simply taken a fire axe from an emergency store close to the brig. The enquiry was losing its way and Captain Tuvok did not have sufficient time to pursue the case with his normal vigour.
B'Elanna went early to the mess hall for breakfast, the only meal she ate there at the moment. There were several other alpha shift crew in the mess including Tuvok. Neelix was fussing around trying to encourage the crew to try whatever concoction he had produced that morning but he knew better than to interfere with B'Elanna at this time of day and she sat in relative solitude. Seven and Carey were due to meet her for their normal engineering breakfast meeting in ten minutes. A routine that the three officers had fallen into.
She could hear Neelix talking to Tuvok, trying to persuade the Commander to have a bit more breakfast.
"It's really very good Commander and will build strong bones and teeth. Have a little more. I realise that the first mouthful may seem a little strong tasting but it becomes less challenging after the first swallow."
"Thank you Mr Neelix but I require no further food or drink. I am finished." Tuvok had that oddly harassed appearance, completely at odds with his Vulcan temperament, which he often seemed to show around Neelix.
"Mr Tuvok I think you should be setting a better example to your crew. As Captain they look to you...."
Neelix's words were lost in a howl of rage and the stocky little Talaxian was knocked two metres backward propelled by a Vulcan right hook. Tuvok was on his feet glowering "Do not presume to question my behaviour runt."
The occupants of the mess hall sat in utter silence. Tuvok glanced around with a comical look of dismay. B'Elanna nearly laughed, in the last twenty seconds she had seen more emotion from Tuvok than in the last six years. The sound of Neelix groaning brought her to her senses.
"What in Kahless name are you doing Tuvok?"
The Vulcan was perspiring heavily and struggling to regain some control.
"I do not know" he said shakily. "Mr Neelix do you require assistance."
"No I'm fine." Neelix got to his feet without help from the proffered hand. Even though his nose was bleeding and he was more than a little scared, the small man was determinedly light-hearted "I never realised you were such a vehement food critic Mr Tuvok."
The joke did not alleviate the Vulcan's distress. It was clearly visible which in a Vulcan was unnerving.
"I must see the Doctor" muttered Tuvok in a pained undertone. "Lieutenant Torres. You will accompany me."
B'Elanna followed Tuvok to the door and briefly considered issuing a gagging order to the remaining crew. She dismissed the idea. This would be impossible to keep under wraps and showing too much concern would only increase the rumour's momentum.
They met Seven in the corridor leading to the mess hall along with Lieutenant Carey. B'Elanna shook her head at them. "Meeting's cancelled" she said tersely not stopping. Seven and Carey stared after them as they entered the turbolift.
"Sickbay" said Torres. She watched her companion, concerned by the all too obvious struggle for control as he slouched against the wall of the lift.
"Do not stare at me Lieutenant" he growled and his hands balled into fists, he straightened himself to loom over her. He grimaced and subsided equally quickly muttering "I am very sorry Lieutenant." He closed his eyes and began reciting Vulcan meditation chants under his breath.
"It has started hasn't it ... ? Pon Farr ..."
He didn't answer but his eyes opened and she could see the primitive rage within. It was a distinct relief when they had arrived at their destination. Sickbay was empty and quiet, the EMH not active.
"Computer activate EMH" barked Torres. The volume of the bark reflecting her tension.
"Please state the nature of the medical emergency" said the materialising EMH. Taking one look at the anger-clouded face of the Vulcan he said "No need. I see that my latest potion was ineffective." He picked up a hypospray from the counter and pressed it into the Vulcan's neck. Tuvok immediately relaxed and his face regained its hallmark impassivity.
"Thank you Doctor."
"You knew it had begun?" said B'Elanna.
"Lieutenant it did not require a brain-surgeon to work it out. Although of course I am rather a good brain surgeon." He smirked.
B'Elanna remained stone-faced and the Doc lost the smile.
"Vulcans experience Pon Farr regularly every seven years give or take a few weeks. We have been in the Delta quadrant for more than six years. I discussed the situation with Mr Tuvok some months ago and with his permission I have been endeavouring to find some way of bypassing the crisis. We have had some success controlling the symptoms but I have been unable to defer the onset."
"I fear Doctor that we will have to adopt the fall-back plan." said Tuvok in a tortured whisper. The effect of the hypospray was already diminishing.
"Are you sure Captain? There are other things we could try."
"No!" shouted Tuvok. "No" he repeated more quietly. "There is no time. I pray that my wife adopts the same strategy before it is too late."
"And what strategy is that?" queried B'Elanna.
"I am going to place the Commander in a deep cryogenic suspension. Effectively we are going to freeze him at this moment in time. We contacted Starfleet with the details of the plan and Tuvok's family on Vulcan is preparing his wife for the same process. When we get back to the Alpha quadrant they can both be unfrozen and it will be as though the intervening time had not passed." The EMH was looking rather pleased at his solution.
"But that may be as much as forty years" she exclaimed. "Can't I just beat him up as I did with Vorik?"
"Lieutenant Torres, I am bonded to my wife T'Pel and without her I cannot resolve my Pon Farr nor she without me. I will die and my wife also." He paused, breathing carefully.
"And what the hell are we going to do in the meantime. Who is going to captain Voyager?" She stopped appalled at her own selfishness. The panic and grief making her whine like a coward.
The EMH had not considered the politics and said pensively. "Of course when we discussed the plan we had not anticipated losing Captain Janeway and Commander Chakotay."
Tuvok was grimly hanging onto his wilting self-control. He steadied himself to speak.
"Please summon the senior officers to meet here and we will decide what can be done about my successor" he commanded shakily.
"Quickly Lieutenant, there is little time." He began chanting again, quietly, desperately fighting the fever he could feel burning away his logic and intellect, animal emotions sweeping through his soul to take revenge for seven years of suppression and slavery.
Torres slapped her comm badge. "Kim, Ayala, Paris, Neelix, Seven of Nine and Nicoletti to sickbay. Now." (Ayala and Nicoletti had been promoted as acting department heads of security and ops respectively to cover the changes in senior staffing.)
Hearing the Chief Engineer's brusque order the six officers stopped what they were doing and tried to kill the overly familiar sense of dread that gripped them.
"What now" mumbled Tom Paris. He smiled weakly at the ensign who stepped up to take his place at the helm. Tom was not like himself. The cocky young flyboy had aged and seemed almost nervous except when he was at the helm of Voyager. B'Elanna knew there was something upsetting Tom but when she had questioned him he fell silent or tried to distract her by talking of things he knew annoyed her.
Harry on the other hand had taken to the new role assigned to him as to the manor born. He had recovered from his anguish over Captain Janeway, the youthful uncertainty was gone and a confident Mr Kim was proving to be a good first officer. More cynical than anyone might have expected but then everyone had suffered some damage.
When the senior officers arrived the EMH filled them in on the situation and waited for the expected torrent of questions.
"Well I guess that makes Harry captain" said Ayala at last. Tom choked and started to cough. The EMH banged heartily him on the back.
"Under normal circumstances that would be correct" said Tuvok. The Vulcan's face was shining with perspiration as he struggled to keep his raging emotions in hand. "But these circumstances are not normal. Lieutenant Torres is the most experienced senior officer remaining and is the logical choice as captain"
"Many of the Starfleet crew would find it difficult to serve under a Maquis captain" pondered Neelix out loud.
"Mr Neelix firstly such considerations are unworkable on this ship. We must all work as one crew. And secondly this is not a democracy. The crew does not elect the captain. What is your opinion Mr Kim?"
Harry Kim was very collected when he spoke "I would be honoured to command Voyager but I accept that B'Elanna has more experience. I am prepared to accept your decision Captain."
"What about you Lieutenant Torres?"
B'Elanna swallowed hard. She would rather not be captain of Voyager but it looked like she didn't have a lot of choice. "I know I have more experience commanding small ships but I have no more experience of commanding a big starship than Harry. Slightly less in fact - at least he has trained in a command role on the gamma shift." She grinned at the Lieutenant who was trying hard to look cool. He smiled back.
Her grin faded when she looked at Tom. Inexplicably he was white-faced and frightened, her Klingon nose could smell the fear. But he said nothing and avoided her eyes. B'Elanna swore she was going to find out what was bugging the normally flamboyant Captain Proton so badly.
"I see" said Tuvok. "Does anyone else have anything to add?"
Seven of Nine avoided B'Elanna's eyes as she said quietly "Lieutenant Torres is the best officer available for the task. Both in terms of experience and abilities."
"From the limited choice on offer" joked Tom. He shut up quickly as three pairs of eyes turned on him angrily. Harry was transparently disappointed by the ex-drone's unemotional assessment.
Tuvok thought for a moment before speaking again. "Lieutenant Torres is promoted to the rank of acting Captain until such time as Commander Chakotay recovers from his illness. Mr Kim will remain as first officer. Computer transfer all of my command codes to Lieutenant Torres - authorisation Tuvok alpha alpha three five pi."
COMMAND CODES TRANSFERRED replied the computer for the third time in only a few weeks.
"Congratulations Captain Torres. I trust you will remember your duty to uphold Starfleet and Federation laws as well as your duty to Voyager and your crew. I have found serving with this crew to be satisfactory and it is with regret that I find myself unable to continue. Doctor, it is now time." The Vulcan's bloodshot eyes and twitching muscles confirmed his words.
The Doctor gently took his arm and led him to a biobed. He injected a hypospray of muscle relaxants and sedatives and Tuvok subsided on to the bed. "Live long and prosper." he murmured as he staggered into unconsciousness.
"Good" said the Doc. "The adapted stasis chamber is ready so if you will assist me Mr Paris we can begin the cryogenic freezing process. The rest of you can clear out of my sickbay. The meeting is over."
The new captain looked at her senior officers.
"Meeting in the briefing room in one hour. Seven could you ask Carey to attend. We will have to reorganise engineering. But the main topic will be how we inform the crew."
"Aye sir" they chorused.
B'Elanna followed Ayala and Nicoletti down the corridor.
"If our luck keeps up," she heard the new chief of security say to Nicoletti, "by the end of the week I should be captain and you first officer. I must brush up on my command protocols." B'Elanna grinned at his gallows humour.
"Be careful what you wish for Ayala." she called from behind.
"Sorry Captain" he returned smartly.
B'Elanna stopped as the meaning of what he said sank in. Captain. Captain of Voyager.
She looked around her at the familiar walls of her ship. And felt such a press of responsibilities that she felt physically weighed down. 'In Kahless name what am I going to do? I'm not ready for this. He's making jokes about command protocols. I'm going to have to actually learn this stuff.' She walked slowly back to her quarters.
With ease born of too much practice B'Elanna pushed the day's events out of her mind and tried to think of other things. The only problem was then she thought about Seven and that was worse. She forced herself to think about the one area of the ship where she was truly comfortable. Engineering.
Seven had been very thorough since joining main engineering and had already made significant improvements to the operation of the eight members of the gamma shift team. 'I wonder if she would do as well as chief of engineering' B'Elanna wondered to herself.
It had amused B'Elanna when Carey reported that the gamma shift was very protective of their new chief. Disparaging comments and name calling from other engineering shift team members had almost start fights in Sandrines. There was some initial grumbling from the gamma shift about having a Borg in charge but after a few days it stopped to be replaced by sincere admiration. It had been a long time since the gamma shift had received any attention from a senior officer as capable as Seven of Nine and in a startling display of loyalty the engineers had started to use the jokey Borg designations given them by the other shifts.
Seven had been slightly mystified by this as the designations were not used in any manner which would increase efficiency but she recognised the change in her relationship to her staff and she also started using the silly nicknames they had adopted. There was something rather touching about Seven seriously addressing one of her crew as Three's A Crowd. B'Elanna wondered how the gamma shift would feel at surrendering their boss so soon after she had started. All this constant change was not good for morale.
Seven and Torres had seen each other regularly at the engineering breakfast meetings where they discussed the work requirements for each of the three shifts. The ex-drone had been cool and professional.
No further mention was made of their abortive affair but B'Elanna had been unable to prevent herself thinking about the beautiful blonde. 'Close but not close enough Torres.' If the engineer was honest then she admitted that the loss still hurt. She was uncomfortably aware that if Seven wished to resume any relationship her Klingon pride might not save her from making the same mistake.
'There's no time for any of this now. I will have my hands full learning a new job and making sure Voyager doesn't suffer in the process.'
Checking her chronometer she groaned. Time to meet with the Senior Staff for the third new start in how many weeks was it? Five or six. She was no longer sure. It seemed like a lifetime.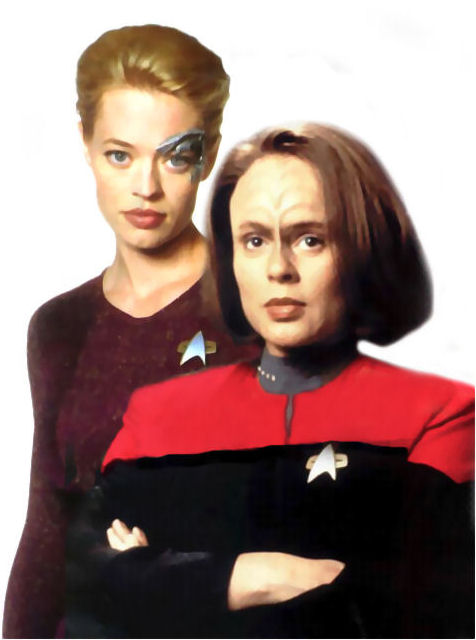 The announcement of the latest disaster to befall Voyager and her crew had gone down like the proverbial lead balloon. There had even been heckling. Torres was well liked but the crew did not see her as Captain material. Not yet anyway.
"Who's going to change your diapers Captain?" yelled one anonymous wag. B'Elanna had kept her cool with difficulty.
"It's only to be expected" said Harry to B'Elanna afterward. "The poor bastards know their chances of getting home haven't got any better."
"How do you figure that Harry?" She was slightly hurt by his tone.
"Without Janeway or Chakotay? Gotta say the odds have worsened B'Elanna."
"A touch negative if you don't mind my saying Starfleet" she said feeling her Klingon rising.
"Just being realistic. Don't get me wrong B'Elanna I know you're going to try and make this work but much as I love you you're no Janeway. We are going to have to be a lot more careful and take fewer risks."
"That doesn't sound like the ensign who tried to lead us through the slipstream in the flyer."
"Older and wiser B'Elanna. Older and wiser."
He smiled and B'Elanna felt a little uneasy. Harry's black eyes were colder and less affectionate than usual. Then she thought that perhaps Harry was trying to set a slightly more captainly distance between them. Sad but probably necessary.
She hardened her tone. "Drop the speculation Commander and lets get going. We have a lot to do before we sleep. And Harry we are going to make this work."
---
NB: Credit for the picture of Captain Torres goes to Maggie Heaslip